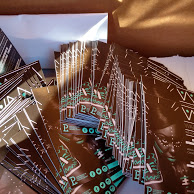 "The Warrior Moms® project is founded on the premise that single mothers are unrecognized warriors that deserve to be celebrated for their strength.
One single mother from each community will be gifted a complimentary makeover and be crowned as "The ICON of Beauty, Power and Strength" of their community.
So the hustle begins…
Define Hustler: One who operates five steps ahead of the masses.  One who responds to opportunities when most aren't aware.  One who sees opportunities in every experience in life. 
As the founder of Warrior Moms®, my "hustle" mentality has been very effective thus far.  If you're an Entrepreneur, I'd like to share with you a marketing strategy that is very effective for any business opportunity.
 Here's my marketing strategy that promoted this project as follows:
 1.    Built Social Media Platforms: Facebook, Instagram and Twitter.
2.     Developed a Website for Promotional purposes.
3.    Design and print flyers, coroplast signs and banners for the contest/Makeover event.
4.    Connect with family, friends and core team to assist in the promotion of the makeover contest.
5.    Dropped off flyers to my children's Middle school in Avondale, Phoenix Learning Center.  This is where I received a lead of an Avondale Community advocate.
6.    Dropped flyers off to kids current high school, DePaul Cristo Rey.
7.    Dropped off flyers to Peoples Liberty's front promo desk.
8.    Dropped off flyers to Cradle Cincinnati;  they offered to promote within, the staff will promote ALL three communities! 
"This is when I truly realized that my major supporters are already in place…I just have to show up!"
9.    Next, drop off at Santa Maria Community services.
10. Next, The Urban League.
11. Next, Kilamanjaro African Boutique in Clifton.
12.  Dropped flyers off to my Accountant/Book
Keeper, RZL Tax Services.
13. Promote everywhere I dwell, even the gym at LA Fitness!
"During this journey, I've realized that the most effective way to market is going out to the community, meeting people face to face.  It's the most authentic way to connect and receive genuine support. 
This is just the beginning of the Hustle, this is the beginning of GREATNESS! 
I'll share more as the journey continues!"
Love and Light,
Nicole Lee
www.warriormomscincy.com
Copyright 2018 Nicole Lee. All rights reserved. This material may not be published, broadcast, rewritten, or redistributed.