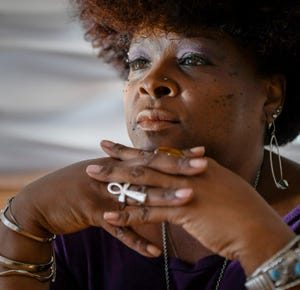 ASHEVILLE – One hundred years after a white mob leveled Tulsa's Black Wall Street, J. Hackett envisions a brighter future for Black entrepreneurs in Asheville.
"I want to see a robust economy, where Black businesses are interacting and engaging with white businesses, and I think that if we do it well, then Asheville will not only attract the groups it's already attracting, but more Black business owners and entrepreneurs," he said.
Instead of landing on top-10 lists for the best place to retire, he mused, perhaps one day Asheville can rank among the best places for Black entrepreneurs.
The North Carolina Black Entrepreneurship Council of NC Idea, a foundation geared toward economic empowerment, recently awarded its first business grant to Grind AVL, a cafe and co-working space Hackett co-owns with Bruce Waller at 346 Depot St.
Hackett intends to use the $50,000 grant to help grow Asheville's own Black Wall Street.
"Entrepreneurship is one of the quickest ways a marginalized person can build wealth," Hackett said in September, days away from opening his cafe. "Instead of working a 9-5, they can take their own ideas and build a product they can sell, and that's how it's been done for years."
Symbiotic Black business ecosystems formed after slavery was abolished by law but while steep social barriers remained, Hackett said. Black people bought goods and services from other Black people, and neighborhoods thrived around them.
Tulsa's Black Wall Street was one, but the district was destroyed in 16 hours in the spring of 1921.
Armed white mobs killed as many as 300 Black people, injuring hundreds and leaving thousands homeless. They were incensed by an accusation that a Black teenager sexually assaulted a white teenager, a case that was eventually dismissed.
The scale of Tulsa's destruction was rare, but the dismantling of Black business districts is not.
Asheville's own once-thriving Black business district declined after local "urban renewal" policies in the 1970s sliced, diced and leveled portions of traditionally Black neighborhoods to make way for municipal building projects.
Hackett and other local entrepreneurs want to rebuild, and the NC Idea BEC grant should plant the seeds.
The grant will help business owners market their products at Grind, where they may also have company mail shipped to private lockboxes. It will also pay for access to scanning, printing and copy equipment.
It also covers 40 hours of education with Western Women's Business Center in partnership with Mountain Bizworks, where each entrepreneur can learn foundational skills like bookkeeping and Quickbooks.
They'll also learn the value of incorporating a business, which increases eligibility for PPP loans, business credit and other incentives.
Many young entrepreneurs don't understand the value of that. "And that's another way they've been boxed out," he said.
As Underground Railroad allies signaled their status as friends to enslaved people, seasoned business owners could leave the light on for fledgling entrepreneurs, Hackett said.
That could mean offering advice, or simply not taking advantage of young business owners.
"If you are a tax pro or accountant, don't just upsell me," Hackett said. "Don't use scare tactics. Treat me like a friend. Tell me what I do and don't need."
Hackett emphasized the inclusivity of both the Black Wall Street model and Grind, which he described as Asheville first Black-owned coffee shop, not a Black-only coffee shop.
"Coffee is our unifier to start growing and supporting Black business owners and networks to build Black Wall Street," Hackett said. "We just want to participate — that's all."
Grind AVL hosts Black Wall Street pop-ups from 10 a.m.-2 p.m. the second and fourth Saturday of each month.